2021 Kamloops Open Invitational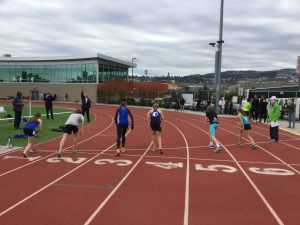 Scheduled for July 9 and 10, 2021, this meet is open to anyone who is a member of BC Athletics/Athletics Canada whether a competitive or a training member, of any age. Training members will have to pay the $3 "Day of Event" insurance fee.
At this time, the COVID regulations allow us to have any number of athletes in the 9 – 21 age groups. If we get older athletes, we presently have to limit ourselves to 50 athletes, coaches, officials, and volunteers in any one area (track, throws, jumps) providing we can maintain separation between these groups. we are also allowed to have up to 50 spectators in the stands.
To see the list of events being offered, CLICK HERE.
Registration for the meet must be done on Trackiereg. Follow this link – CLICK HERE.